The wild year 2022 brought a whole series of challenges and important experiences to the Olomouc company Protein & Co. It belongs to advanced companies specializing in the production and sale of sports and healthy nutrition. The founder and owner of the company, Daniel Sosyn, along with his team, has been dealing with the impact of covid changes, the increase in raw material prices and the development of customer demand, which also responds to the growing inflation in the online environment.
"Last year, he took off our rose-colored glasses, but we managed to deal with the situation. Our focus on taste and high quality pays off," says the twenty-eight-year-old entrepreneur and sports enthusiast, who also managed to graduate from the Medical Faculty of Palacký University while founding his own company. Last year you Daniel Sosin in addition, he earned a prestigious award in the form of inclusion in the 30 under 30 years selection in the domestic version of the popular business magazine Forbes.
Not only was the last year a difficult test for many companies. How do you currently perceive the situation in the sports nutrition market?
I would divide it into two chapters – how the market develops and how we develop as a company. The sports nutrition market is still essentially a food market. The situation is similar to that in food chains. Inputs become extremely expensive and the customer has started to behave differently. We all prefer to watch every penny. The sports nutrition market is not behaving the way we are used to in the last three to four years, when it had a distinct upward trend. It is currently stagnant. Our segment is highly dependent on the online environment. Stores are more of a supplement to sports nutrition. Last year was the first year that online sales in the Czech Republic declined year-on-year.
How it looks from the other side of things, that is, with the adaptation Protein & Co. current state?
Almost all companies are now looking for an answer, and it's clear that we have to do it as efficiently as possible. Even clients noticed that we were forced to raise prices. The prices of material inputs have increased tremendously. Due to the situation in the world, some basic raw materials have become more expensive up to 250 percent. I must mention that we have loyal customers who somehow accepted the price change. Logically, we cannot sell without a margin. We are used to working very efficiently from the beginning. I have relatively few employees, marketing and sales take place in Olomouc, and we have production facilities in Kojetin. A trio of ladies who deal with marketing here manage the work of a team of six to eight members.
What is your position in product development and innovation?
I'm really very focused on delicious food. I try to project that into sports nutrition as well. It is very important to me how the product tastes. We know that even with ordinary food, there is always a compromise between taste, price and quality. We always try to keep the taste and quality at a high level, and I think it pays off. People are now more selective about what they spend their money on and fortunately they often choose us. We put a lot of emphasis on development, but I've learned in the last year and a half that it's not all about quantity. At one point we were releasing ten products in two weeks. We wanted to offer the widest possible range of products, and people simply buy. This is no longer the case. We talk to customers about the products, so we know when and how they take them, how they feel, and so on. We are constantly learning.
So, are you getting a lot out of customer feedback and requests?
It is also necessary for us. Now, for example, we have developed a new kicker. A man who works as a truck driver wrote to us that he would like to exercise but is always tired. We know how bad they are with sleep and daily routine. We recommended caffeine, vitamin C, a sufficient drinking regime, but that doesn't seem to work for him anymore, even four coffees before training. So for these people there will be a novelty that should just knock people out of their shoes (laughter).
Does the knowledge of a trained doctor help you develop such products?
It plays a significant role. I have the advantage of probably having a better understanding of metabolism than the average person who may not be interested in it. All I can ask is. I have a great faculty around me, my wife also works as a doctor and understands many things even better than me. Some questions are complicated and I can understand them because of my education. When a person receives a medical report, he does not even understand what is written there. I can put the information more into context, but of course I don't want to claim that I could, for example, teach about nutrition at a university.
What are the next important steps before launching a new product?
This year we are also introducing the fact that we will design a product and then send it to, say, forty of our existing customers. For example, if it's a kicker, we can find which of our customers want to use it based on their order history. We send them a free sample and ask them how the product fits them and gradually adjust it. E-commerce has a product that is thoroughly verified by the customer.
On your e-commerce you offer different series of products, e.g keto diet. From an expert point of view, is it a method that has already been tested?
It's a controversial topic. I was also on a keto diet. This is also supported by new studies. I probably wouldn't list anything I don't stand behind in e-commerce. When we put something new up for sale, we even include links to professional resources. I guess I also have a strange habit from college (smile). At Ketodiet, unlike other manufacturers, we strictly do not promote any monthly packages. In my opinion, it should be based on regular food, meat, vegetables or nuts. But if I don't have time, I can supplement it with, for example, a keto shake or keto pancakes for breakfast.
So, is your philosophy to help people stay on a healthy eating regimen?
Yes, in order for a person to achieve his goal, he must establish habits in such a way that he can function with them in the long term. It's about working with the existing menu and finding the path that hurts the least. For me it was, for example, a keto diet, or a low-carb diet. For me, it is most effective if I leave out the adverbs. I'm a hamburger lover, so I eat them without fries, ideally without a bun, and that's fine with me.
And as a next course of supplementation, do you have a ketoshake, which should also be a tasty delight?
I think it really is. What pleases me the most is when customers actually write to us that they always look forward to training, but not because of the exercise, but because they can drink our ketoshake or protein afterwards.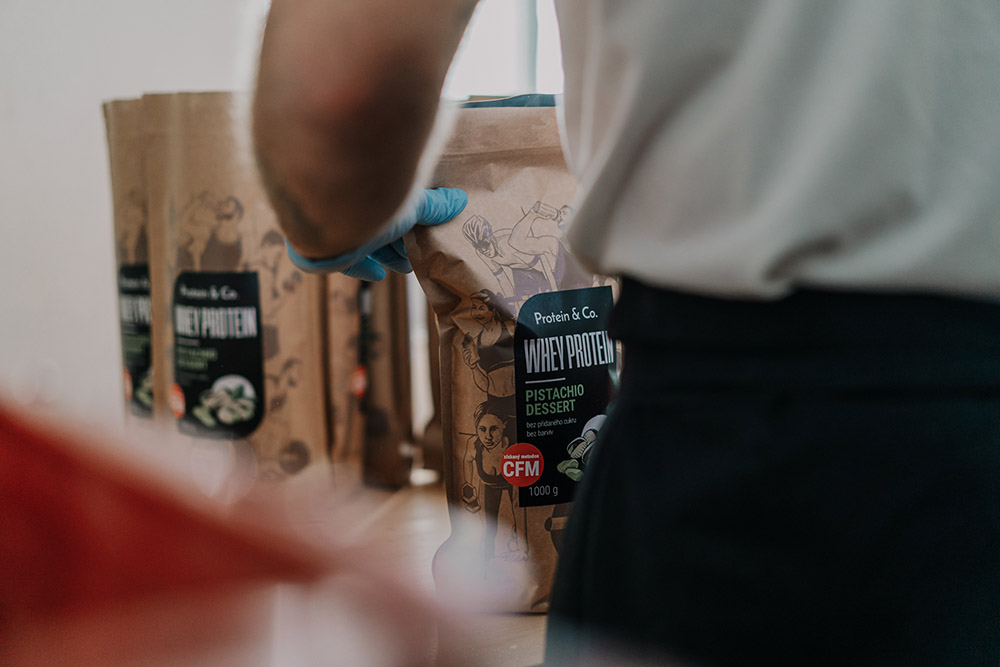 Has interest in a healthy lifestyle been growing in recent years, perhaps due to the influence of social networks?
I think it's going in the right direction. But maybe I'm in a social bubble. In covid, however, the scissors have opened a lot. On the one hand, there are people who started playing sports and exercising, and on the other, there are those who played sports and stopped during covid and, unfortunately, have just started to grow. We also dealt with the owners of fitness centers.
How much protein & Co. did the covid epidemic and restrictions hit?
It was a massacre. We founded the e-commerce in 2017 and I started to fully dedicate myself to it after school in 2019. Then covid came and at the beginning there was a fall to the bottom. Everyone panicked and bought only toilet paper. Then suddenly the interest in shopping in e-stores grew enormously and we didn't know where to jump first. We could do anything and people wanted it. The demand was for everything. However, it also had a negative impact, not only on us, but also on other entrepreneurs. Covid gave us a brutal lift, and after the relaxation came the fall.
But in the end you found yourself in a difficult situation.
We managed to catch it, we adapted. We have an excellent analyst who helped us navigate the situation. There was a significant increase in the price of raw materials, the cause, by the way, is that someone in China decided to do so whey concentrate affects immunity and covid. The Chinese didn't buy it until then, and suddenly they started buying it in bulk. This screwed up the price. Covid lulled us on our laurels and in 2022 took off our rose-colored glasses. But with the team we managed to pull it off and finish the year in good numbers, the growth was around 35 percent.
Do tables, graphs and statistics help you more now than in the past?
Our analyst previously worked for much larger companies such as Alza or Mall. He told me that he has probably never seen such a good team of people who know how to work with data and what they have so efficiently. I take that as a personal compliment. Entrepreneurs often start working according to intuition, and then the year 2022 taught us to switch to data management. We already have some history and it is a huge plus for us that we can already work with numbers in an advanced way.
You must be flattered to be included in Forbes magazine's 30 under 30 selection.
It is very pleasing to the ego. When someone objectively tells you that you are doing well. The beauty of running a business is that with profits in your account, you can see that you are doing your job right and that someone is willing to pay for it. The award was very important to me, because in turbulent times we channeled the profit into various investments or actions. The money was thus completely invisible. One wonders if it is even worth it. Then comes the committee from Forbes, their editors spend a lot of time on the topic and announce that they have chosen you among the top thirty under thirty. This is really nice and thanks to it I saw the light at the end of the tunnel, that it's not really that bad.
Could the award have had a positive effect on the company's reputation?
You could say within the company. I gained more confidence in what we do. I've heard several times from business partners, "Hey, you were at Forbes." They look at you a little differently, but considering that our product is not for entrepreneurs, but for normal people, it doesn't matter. They probably don't know, they are more interested in whether the product tastes good and what its nutritional values ​​are (smiles).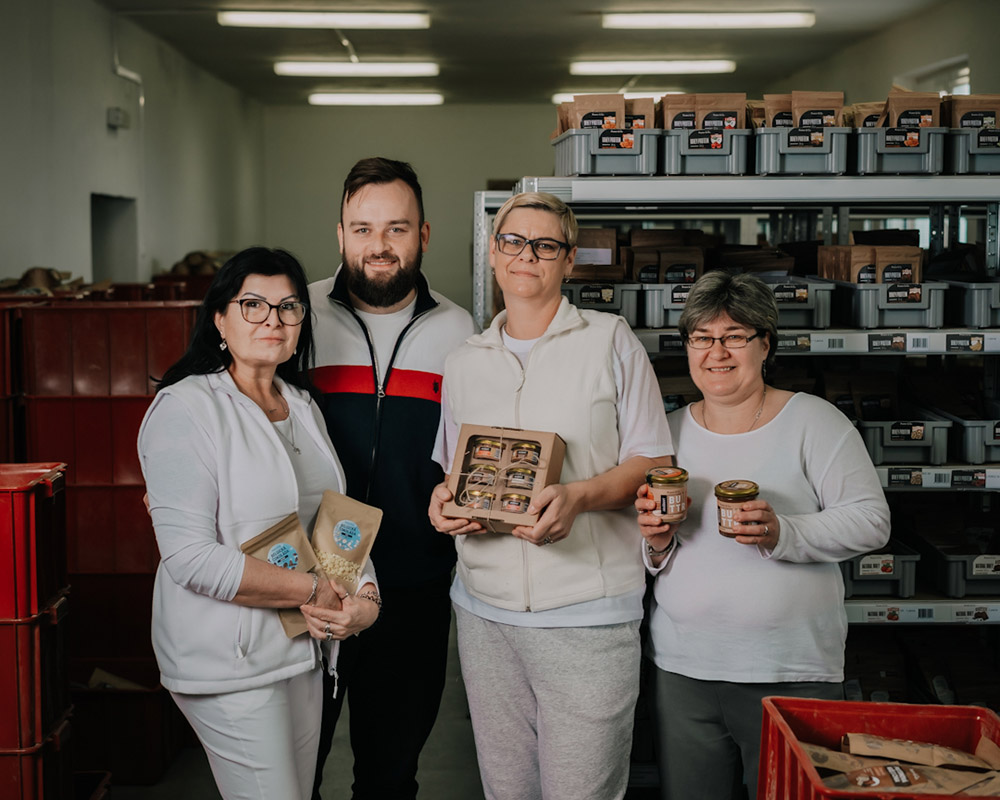 The basis of Protein & Co. is the production of an extensive portfolio of products. What does your production facility in Kojetin look like?
About twenty people work there. I was very lucky to marry my wife, and thanks to that, my father-in-law, Mr. Blahoušek, is the production director in Kojetin. He has rich experience in production and in management positions, and he is a family man, I can trust him. It allows me to deal with work and vision in Olomouc. In the meantime, I am sure that the products will be produced and reach the customers, because they are also in charge of shipping there. Every week we go to Kojetín to discuss the necessary things, he cannot work separately.
You mentioned thinking about the future direction of the company. What is your current vision?
We'll probably be dealing with food. We would like to dedicate ourselves to the production of adventure foods, which are food bags that are poured with hot water. We are currently researching the technology. In half a year, pills would no longer be the only way. A complete meal calculated by an expert will be prepared and only heated. I want to offer people sports and healthy eating as I think it should really look like. Proteinsother training supplements as well as normal food that is balanced and tasty.
Do current technologies enable the preparation of meals almost at the level of freshly cooked meals?
I have indications from the Food Faculty of the University of Chemistry and Technology that it is. We are in the planning phase. There is no substitute for freshly cooked food, I would have to cook it directly for the people in the kitchen. But maybe from college, people know that they heated a day's worth of food from their mother's box, and for me it was definitely better than powdered food. And I think it is possible to reach this level. We are not aiming for Michelin gastronomy, but I think we are able to get close to real food. And now that will be our next goal.